On February 9, the Chairman of the Management Board of the N. Nazarbayev Center for the Development of Interfaith and Intercivilization Dialogue Bulat Sarsenbayev took part on the fifth meeting of the Kazakh-American expert working group on religious freedom an online meeting.
The meeting was attended by Chairman of the Committee on Religious Affairs of the Ministry of Information and Social Development of the Republic of Kazakhstan Yerzhan Nukezhanov, Deputy Ambassador-at-Large for International Religious Freedom of the US State Department Carson Relitz Rocker, Elizabeth Clark (Brigham Young University), Elizabeth Cassidy (USCIRF), President of the US non-government organization "LAN Community" W. Kusack.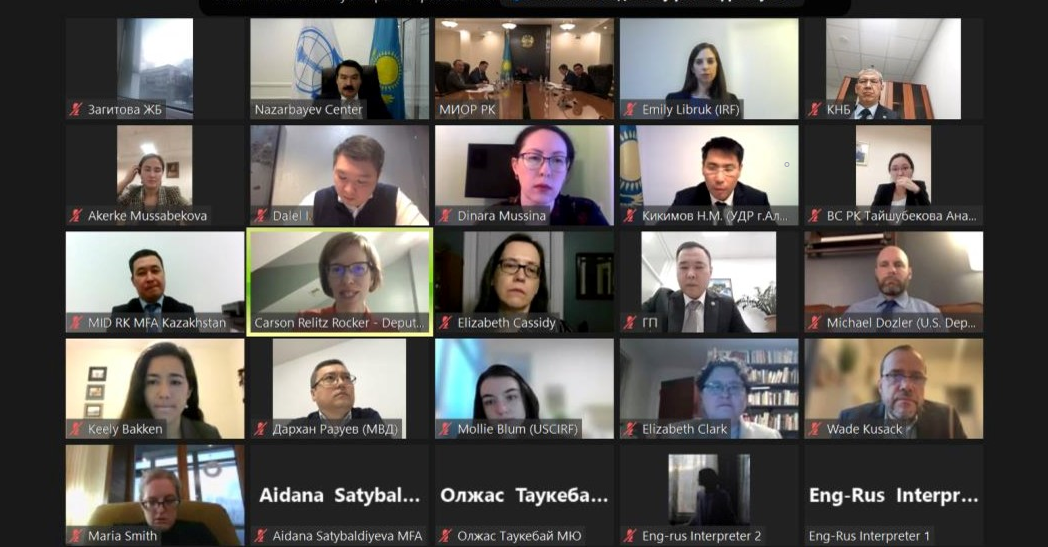 In turn, the Chairman of the Management Board of the Center B. Sarsenbayev informed about participation in the annual 71 National Prayer Breakfast with the participation of U.S. President Joe Biden in Washington, within which he held meetings with representatives of the religious community in order to familiarize with the ideas, goals and objectives of the Congress of the Leaders of World and Traditional Religions and adopted the final Declaration by spiritual leaders of world and traditional religions.
"All participants of the meetings expressed special gratitude to the peacekeeping initiative to convene a Congress of the Leaders of World and Traditional Religions. At the same time, the participants of the meetings pointed out that the VII Congress was organized at a high substantive and logistical level, emphasizing that the messages embedded in the Declaration are consonant in their content with the agenda of global international platforms like the UN," B. Sarsenbayev said.
As part of the working trip to the USA, a memorandum of cooperation was signed between the Center and the Foundation for Ethnic Understanding represented by President M. Schneier. In addition, it is planned to sign memorandums of cooperation with the NGO "The National Coalition Supporting Eurasian Jewry ", "Religions for Peace".
The members of the working group discussed issues of religious freedom in Kazakhstan, legislation in the field of religion, as well as work with religious associations in Kazakhstan.
Following the meeting, the parties agreed on the importance of bilateral cooperation in the religious sphere between Kazakhstan and the United States.