On the eve of the holy month of Ramadan in the National Library of the Republic of Kazakhstan the presentation of the book «Tapsirler tandaulysy» (Safuatut-Tafasir), organized by the Spiritual Administration of Muslims of Kazakhstan was held.
Bulat Sarsenbayev, Chairman of the Board of N. Nazarbayev Center for Development of Interfaith and Inter-Civilization Dialogue, representatives of state bodies, deputies of the Senate of the Parliament of the Republic of Kazakhstan, scientists, religious scientists, Kazakh state and public figures took part in the event.
The four-volume work was published under the guidance of the Supreme Mufti Nauryzbai kazhi Taganuly.
The aim of the book publication is correct interpretation of the ayats of Holy Koran, increase of religious literacy among young citizens, counteraction to destructive religious trends as well as assistance in strengthening interreligious peace and accord.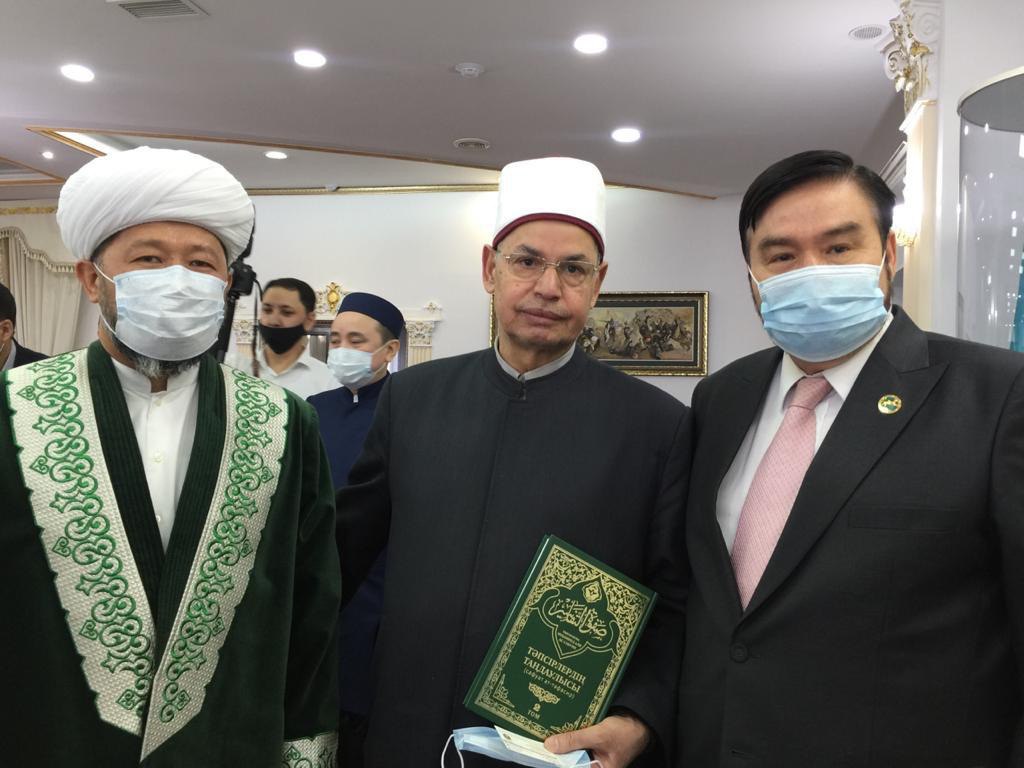 On the sidelines of the event, a meeting was also held between Bulat Sarsenbayev, the Chairman of the Board of the N. Nazarbayev Center and the Rector of the Egyptian University of Islamic Culture Nur-Mubarak Muhammad al-Jindi. The fact that Nur-Mubarak University originated from Al-Azhar, a world famous university with a thousand years of history, is a momentous event in the development of interfaith and interreligious cooperation. During the meeting, Bulat Sarsenbayev reported on the preparations for the XIX Congress, the VII Congress of Leaders of World Traditional Religions, scheduled for 2022.
In his turn, Mohammed Al-Jindi highly appreciated the purposeful and active work of N. Nazarbayev Center on the development of interconfessional and intercivilization dialogue for the last one and a half month.